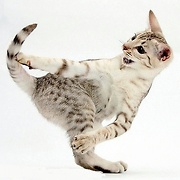 Displaying posts 1 to 5 of 5.


TigerT
67 , Sydney , Australia

Well, thank you for looking at my profile. I didn't think that Lawyer and Shy were two words that went together. I guess that you may have looked at my information because like yourself I am a cat lover. I had two cats, the most beautiful natured carts ever, they were Burmans, sadly they have now both passed, they gave me 16years of the best memories ever. As I can see that you have two only just starting to feel their way, you will have a great time with them, they will give you the same love that you give in return.
I now live on the Sunshine Coast, Queensland, but I did live in Glenbrook not that far from where you live.
Anyway, just wanted to say hello and let you know that your looking doesn't go unnoticed. Have a great day and give Mocha & Latte a cuddle from another cat lover.
Bill

I AM LOOKING FOR A FRIEND-INTELLECTUAL!
I am a 32-year woman, a lawyer.
I am looking for a friend, who has rules and knows what friendship is. Write about it in your message!
I am looking for a man for social purposes (friendship) – necessarily a person who is not in the slightest degree haughty, greedy and jealous, a person who never lies, a person who is not hypocritical, a person who does not cheat others and oneself, a person who has a high sense of self-criticism and values friendship the highest in life.
My email: petralicia@onet.eu

banrock
73 , Wellington , New Zealand

Hi Im John from New Zealand love to have a chat
John